Dynamisches Gesangsmikrophon
Dieses Mikrophon stammt aus einer frühen Zeit der Firma Behringer von vor ca. 20 Jahren. Es ist einwandfrei gefertigt und klanglich neuwertig. Am Gehäuse sieht man Kratzspuren von einer Mikrophonklammer aus hartem Kunststoff. Der Einsprachekorb ist unbeschädigt.
Im Gegensatz zum verbreiten SM58 (eine Konstruktion aus den späten 60ern) ist es etwas brillanter und hat eine tiefere und präzisere Basswiedergabe.
Wem es als Gesangsmikrophon zu schlecht ist, dem empfehle ich es als Tom-Mikrophon oder für andere Percussions. Die Präsenzbetonung hebt den Anschlag angenehm hervor und der Bass ist für dröhnfreies Volumen gut.
Technische Daten
Schallwandler: dynamisch
Frequenzbereich: 50 … 15.000 Hz
Richtcharakteristik: Niere
Anschluss: XLR, symmetrisch, 150 Ω
Abmessungen: ø 48 × 160 mm
Masse: ca. 240 g
Auktion: ⇒ ebay.de/itm/152470064388
---
Dynamic Vocal Microphone
This microphone comes from an early period of Behringer about 20 years ago. It is flawlessly manufactured and soundly new. On the case you can see scratches from a microphone clip made of hard plastic. The entrance basket is undamaged.
In contrast to the well-known SM58 (a late 1960s design), it is slightly more brilliant and has a deeper and more precise bass reproduction.
If you consider it too bad to be used as a vocal microphone, I recommend it as a tom microphone or for other percussions. The presence emphasizes the attack pleasantly and the bass is good for a boom-free thick sound.
Technical Data
Dynamic sound transducer
Frequency range: 50 … 15'000 Hz
Directivity: Cardioid
Connection: XLR, balanced, 150 Ω
Dimensions: ø 48 × 160 mm
Mass: approx. 240 g
---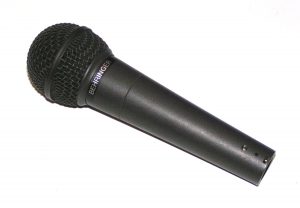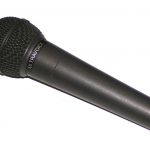 ---